My Favorite Christmas Movies and Shows
It's beginning to look a lot like Christmas! I figured I take a minute to talk about my favorite things to watch at Christmas time. There's so much out there, but we all have our favorites we watch each year.
A Charlie Brown Christmas
This is my childhood. I watch it every year. The scene where Snoopy acts out all the different animals never fails to make me laugh
And Linus' speech about the true meaning of Christmas is always heartwarming.
The Nativity Story
It's always nice to be reminded of the true meaning of Christmas. And it's still a great movie even if you aren't religious; Oscar Issac and Keisha Castle-Hughes are amazing actors not to mention the costumes and scenery and music in the film are stunning.
Love Actually
This is the perfect example of an ensemble movie that works. I was surprised how much I liked it since I generally hate romantic comedies. I watched it originally because a lot of actors I really like are in it. But it is a really fun an heartwarming movie and a great way to get into the Christmas spirit.
I have to say my favorite plot in the movie is Jamie and Aurelia. Of course I love Colin Firth but their story is really sweet and fun.
Other things I love about this movie: John and Just Judy's plot (hilarious!), Hugh Grant's dance number, how adorable Andrew Lincoln is (in a sad puppy kind of way), the part about the eels when Jamie and Aurelia are in the lake, and Liam Neeson in his sweaters being all cuddly.
Doctor Who
Christmas Specials
Something to look forward to every year. My favorites (for each Doctor) are "Voyage of the Damned" He's on the Titanic in space. There are killer angels. What more do you want?
"A Christmas Carol" Two words: flying sharks.
"Last Christmas" Features Nick Frost as Santa.
A Christmas Carol
A timeless classic. Everyone has their favorite version. Mine is the version I grew up watching featuring George C. Scott as Ebeneezer.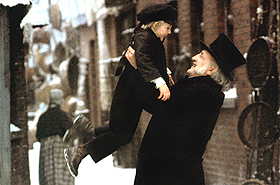 Elf
Santaaaaaa! I know him! I know him!
Oh man, there are too many great moments and quotes in this movie. Like when Buddy tackles the tree trying to put the star on, answering the phone "Buddy the elf, what's your favorite color?", buying something "for that special someone", "you sit on a throne of lies", Peter Dinklage's scene, the epic snowball fight, and so many more!
Those are what come to mind. There's a lot more good Christmas viewing out there. Feel free to add your favorites in the comments. And have a very Merry Christmas!
*as always I do not own any of the above images.